ROLEPLAY CHAT - Fantasy RP Online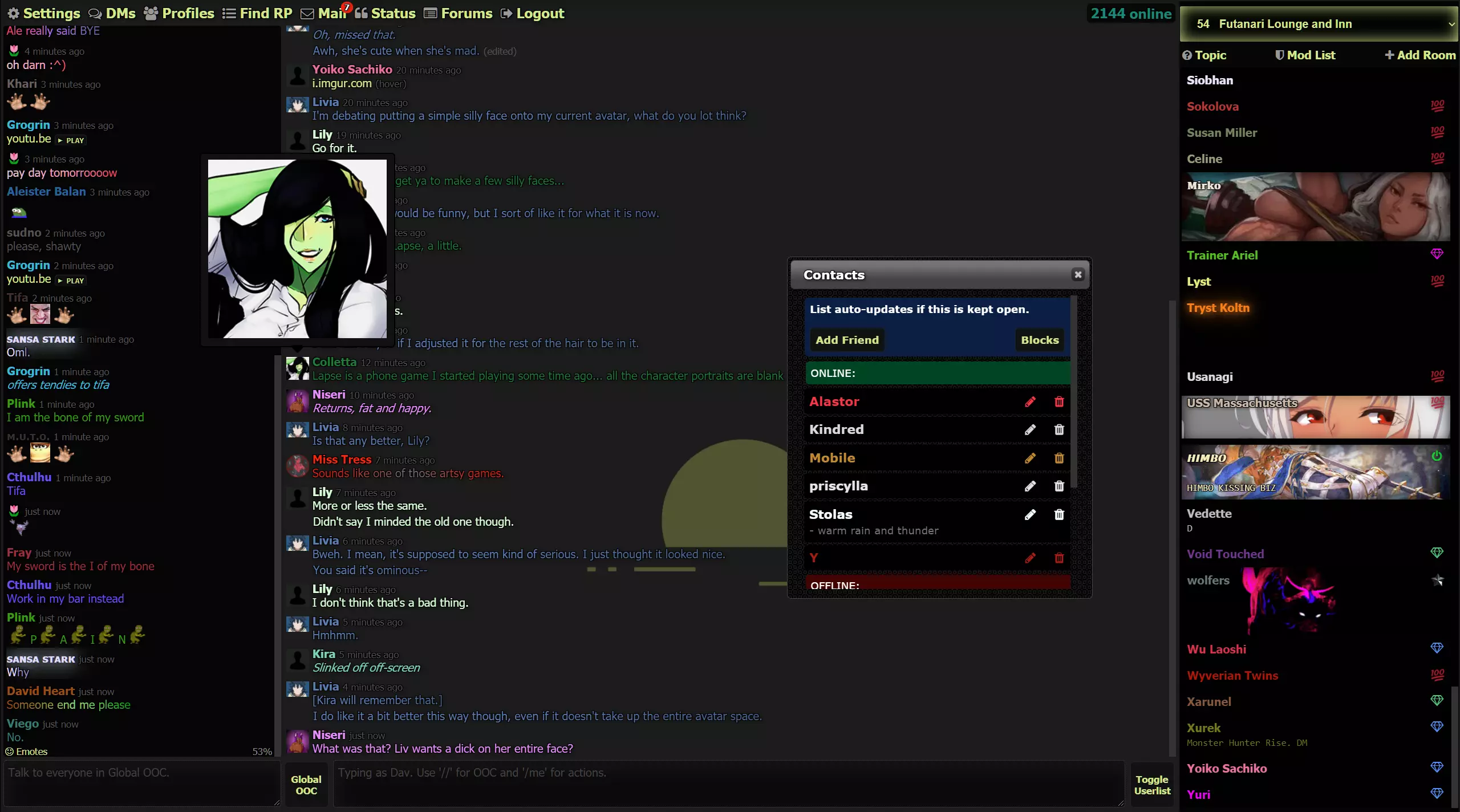 About Us
Roleplay Chat is an online chat room application for text roleplayers to meet new people seeking a large social community with an erotic RP majority, including futanari and furry roleplayers. Find new friends and collaborate on stories with strangers in a community dedicated to writing stories together. Our roleplaying chatrooms feature tabbed DMs, full HTML profiles, avatars, dice rolls, moderation tools, and more to deliver the best story-driven RP chat on the web.
Chat now on the best chat website created with roleplaying in mind. Whether it's a random chat or a more adult chat you're seeking, our online free chat room design has you covered. User-created rooms are self-moderated and in most rooms, adult RP is allowed. Most members roleplay sexually explicit characters, but you'll find clean roleplay as well. At RPC, we believe roleplaying online should be a
safe experience
for all, so be sure to read the chat rules before joining, and please enjoy your stay!
Disclaimer
The staff of this site, or any other affiliates, are not responsible for any materials you view or download from this site or any of the third parties it has linked to.
It is assumed that if you enter this site, you are 18 years of age or older and are not offended by the material contained in this site or any sites to which it is linked.
If there is any misunderstanding or disagreement about the contents of or related to this page, leave now.
Terms of Service
While using roleplay.chat you agree that you will obey the rules of the site to the best of your ability.
You will not use scripts or bots for texting, data collection, or any other reason.
You will not attempt to exploit the chat system in any fashion.
Using the chat to make threats or conduct acts of illegal activities will result in a site ban and possibly the contacting of law enforcement.
Privacy Policy
There is no expectation of privacy when using the site. Examples of information collected:
IP Address
Email
Location data
Private messages
Public chat history
Site Mail
Profile content
Bannable Offenses
Linking to or discussing other roleplay chat sites or forums.
This includes all Discord servers, regardless of their type.
Off-site pages linked to RPC must also follow these rules.
Bypassing anything that says [FILTERED].
Don't assume it's okay. It's filtered for a reason.
Relaying messages for banned users, such as contact info.
Encouraging bannable offenses from other users.
This includes knowingly interacting with banned users while on RPC.
If you know they're supposed to be banned and you interact with them, you encourage them to ban bypass.
You can be friends with whoever you like outside RPC, but on RPC the punishment of a ban must stick.
Referring to members of Staff in any negative fashion.
This includes off-site interactions.
Being under 18 years of age. No minors allowed!
Sharing private chats without the consent of both parties.
Unless you're DMing chat logs to room staff to report another member.
Bullying / Trolling / Harassment / Racism
Characters portraying stereotypes of any
real race
for
raceplay
are disallowed.
Trying to make others regret their decisions for how they used their money because it differs from what you would do.
You may only trade profile names in exchange for Excess.
Attempting to trade names for money will result in the loss of that name.
You are not allowed to advertise profile names you are trading. You must be approached with offers of Excess.
Seeking adult RP with non-adult characters or ones that depict a non-adult appearance.
Unsure about an image? When in doubt, throw it out.
Holding multiple variations of the same alias.
e.g. Batman, Bruce Wayne, The Dark Knight, The Caped Crusader
Image Rules
--
The guidelines listed below are secondary to the United States law.
Profiles
(including links)
, Avatars, RP Ads, Sceneries, and Room/DM Backgrounds.
If a character appears under 18 years of age and is using a real photo for their faceclaim that is
NOT allowed
.
--
This rule only applies to those that will ever do lewd roleplay with those characters.
--
This means no Harry Potter roleplay using faceclaims of the child actors in adult scenes.
--
It also means no roleplaying adult teens as if they were of a younger age.
Drawn/Rendered Depictions
If a character appears under 18 years of age
(even if vampire etc.)
, it must be fully clothed.
--
Same applies for nekos, furries, and other humanoids.
--
"fully clothed" means no partial nudity or obscenities.
(see-through clothing, bulges, etc.)
--
No suggestive posing or appearing in the same image as other NSFW characters.
Banning FAQ
What do I do if I get banned?
Submit an appeal and be patient.
Assuming it's permanent and then telling me off in your appeal may make it permanent.
Telling all your friends may result in them getting banned because they flip out to avenge you.
Sometimes I ban to discuss things with people. It's my way of stopping you at the door.
Even if you were really bad, depending on your response, you may be able to return in the future.
What are some tips to use when appealing my ban?
Take it seriously. Joking around doesn't help.
Be genuine and realize your offense.
Convince me it won't happen again.
About Discord Servers
No public Discord server invites.
You may ask friends for their Discord ID to add them. ie: "That was a fun RP. What's your Discord ID?"
Do not display a Discord server invite on any pages linked from RPC, such as your room's web page.
Spread the word and tell your friends
Questions and Answers
What does roleplay mean?
Roleplay means to perform or act out a role, pretending to be a character from real life or a work of fiction. In the case of online roleplay, it means chat groups dedicated to writing stories.
What is anime roleplay?
Anime roleplay is a form of fantasy roleplay in which people meet-up on internet chat rooms like this one to discuss and act out characters from their favorite anime series.
What does RP mean sexually?
Sexual RP is adult roleplay typically done one-on-one in private chat rooms and revolves around the act of sex or erotic roleplay. You find RP like this in public chat rooms here.
How to roleplay in chat rooms
Chatting in our text chat is as simple as adding asterisks to the ends of your post *like this* or using the /me command to display your message as an action.
Help reporting other members to chat mods
Contact a moderator by clicking the "Mod List" link under the room name, which will display a list of that room's moderators and they can help you. Room staff help keep the chat free of spam and other bad actors.
How do I use the mobile chat app?
Add this page to your home screen and our special code will allow it to function separately from your browser. This works well on tablets, too.
Are there free chat rooms or do I have to pay?
RPC is a free online chat, but some cosmetic perks require purchase.
When did Roleplay Chat start?
RPC is not a new chat site. It was started in 2005 as an addition to an anime gallery site using a free chat software called Flash Chat. Its primary user base came from Yahoo Messenger and popular imageboards. A couple of free domains and years later, we obtained roleplaychat.org in 2008. We used that domain for many more years until we obtained both roleplay.chat and rp.chat which we still use today.
Are there any rooms to help me make new friends or get started?
Yes, you can use GOOC (Global out of Character) to chat online with a diverse group of individuals, all stuck inside from the COVID pandemic just like yourself. Keep that in mind when you interact with others and be polite.
What pace messaging can I expect?
This is a free live chat room and, unlike a forum, expect your messages to scroll by. It depends on how active the room is, but a web chat is going to be more instant messaging than alternative social media RP websites.
Why are rooms sorted so randomly?
You don't want to chat online in a room full of AFK people. You want an active live-chat experience so rooms are sorted by activity, instead of by user-count.
Why does it say my account no longer exists?
Be careful not to stay offline too long because profiles expire after 30 days of inactivity if you have not logged in at least once for that length of time.
How do chat rooms work?
Chat with people on our live online chat rooms by typing works of fiction with like minded individuals into the same genre RP as you.
What kind of people will I meet using RPC?
This isn't a dating chat, but you can chat live with single women and men who are all into online roleplay. Some users find true love and get together in real life. Feel free to chat with friends and do some flirting, no matter your gender or sexuality. We have many straight, lesbian, and gay chat roleplayers for you to engage with, so you're bound to have a diverse online chatting experience.
How do I create a chat room?
Create an online chatroom of your own by clicking "Add Room".
I forgot my username or am locked out of my account — what do I do?
You can view a list of profiles your current IP has connected to by viewing the IP Access List. Keep in mind some mobile users may receive a shared IP. If this happens and you cannot log in, contact staff using the Ban Appeal Form.
I'm not 18 but I am of legal age in my country — can I still join?
No. This isn't a teen chat and even if your country considers you an adult, you are not welcome here. RPC follows United States law and we will not tolerate minors trying to chat with strangers when sex chat is so abundant. Consider alternative chat sites until then and you may find someone interested in roleplay there.
What else should I know before joining RPC?
Consider your character's nickname or alias when choosing a new username. Are you an anonymous chatter or does your character's identity have a personality? Express that when coding your persona's profile. Maybe your character is a flirt or does combat RP, but nobody knows until you provide that information. Chatting online is more than just reading, so if you're ready to meet new friends and start typing, join us already! It's totally free and you won't regret it.